Bird flight patterns on radar
The first offshore radar system on the North Sea was installed on a turbine in the Luchterduinen wind farm in 2018. In combination with real-time observations from a platform on the turbine, the resulting data will enhance our understanding of bird flight patterns in and around a wind farm.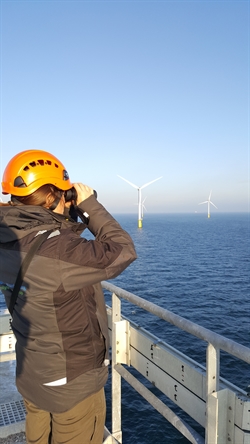 A consortium consisting of Bureau Waardenburg and DHI is working on this research project. The primary focus last year was on radar validation, optimising radar settings and monitoring bird fluxes. To complement the radar observations, researchers from Bureau Waardenburg have been making observations from a platform located one of the turbines (Photo 1). The radar does not distinguish between different species and so the observers brave the elements to collect species-specific information. The work done last year, which also included close collaboration with the radar supplier, has led to major improvements in the reliability of the collected data.
The focus will shift next year to flight patterns and avoidance in and around the wind farm, concentrating on local seabirds (such as gulls, divers, Northern Gannet, Common Scoter, Razorbills and Common Guillemot), migratory seabirds (such as divers and the Common Scoter), and migratory land birds (such as Thrushes and geese). Ultimately, the aim is to produce better estimates of collision risks for birds in offshore wind farms. The fieldwork for this project will continue until the end of 2020.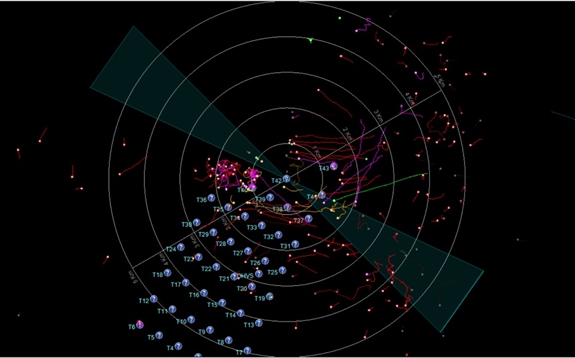 Radar Image (Source: Bureau Waardenburg)
Alongside the findings from the study itself, there were other interesting observations. In July, large numbers of birds were seen in the northwest corner of the wind farm. The radar detected this flock and the observers identified them as seagulls. Some harbour porpoises were seen in the same area at the same time. This was an exceptional siting of what may have been a 'feeding frenzy', in which birds and sea mammals (or other predators) feed at the same time.