Wozep research programme investigates the ecological impact of offshore wind farms
The Netherlands has ambitious plans for renewable energy. The Dutch Ministry of Economic Affairs and Climate Policy is responsible for implementing the road map for offshore wind energy while ensuring that the impact on birds, bats and marine mammals remains within the acceptable levels set by the nature legislation. Research is needed to understand the effects on protected species and habitats, and to develop the appropriate mitigation measures. The Ministry asked Rijkswaterstaat in 2016 to initiate a research programme (Wozep: the Dutch Governmental Offshore Wind Ecological Programme, 2016-2023) to develop knowledge in this field. This newsletter will be sent twice a year and will describe the research progress and latest insights.
Studying seabird flight patterns in offshore wind farms
Bird mortality due to collisions with wind turbines is one of the major ecological concerns associated with wind farms, both onshore and offshore. Wozep is working together with Eneco to investigate bird collisions and behaviour within the offshore wind farm Eneco Luchterduinen and to improve input parameters for collision risk modelling.
Refining models for sound exposure in marine mammals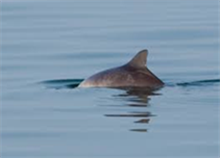 The main ecological concern below the surface is underwater sound. High levels of noise are produced during the piling of foundations for wind turbines in particular. Animals may be harmed as a result, or at least disturbed, with marine mammals being thought to be the most vulnerable. Commisioned by Wozep, TNO worked to refine its noise propagation model Aquarius to account for the entire spectrum of piling noise (frequency weighting).
Bird behaviour in a wind farm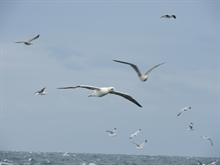 Operational wind farms cover only a limited surface area in the North Sea. So at present the impact of the displacement of bird populations and the concurrent potential habitat loss would appear to be very limited. However, with the planned large-scale roll-out of offshore wind, it is becoming essential to understand how individual birds, their behavior and, subsequently, bird populations may be affected by large numbers of wind turbines at sea.
Radio telemetry to track bat migration in the North Sea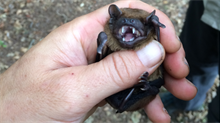 Birds are not the only animals prone to collide with wind turbines. Bat detectors have demonstrated the seasonal presence of migrating bats on the North Sea. In order to determine migration routes of individual bats a telemetry network was started. The aim was to follow bats, and track the routes travelled as precisely as possible, with a network of receiver stations that monitors transmitters attached to different animals.