To maintain the depth of the navigation channels at sea, the sea bed must be dredged regularly. The Soil Quality Decree regulates what must be done with the released dredging spoil. It then makes a difference whether sand is dredged from the coastal base (the zone between the sand dunes and sea dykes and the ongoing Amsterdam Ordnance Datum -20 metre isobath in the sea) or whether it comes from outside the coastal base.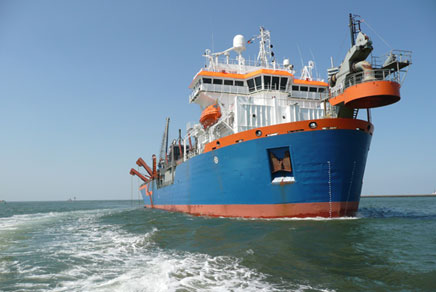 Distribution of dredging spoil
Sand originating from the coastal base must be kept in that zone. It is deposited in distribution compartments (wharves) in the immediate vicinity of the place where it was dredged. Sand from trenches outside the coastal foundation can serve as filling sand.
Sustainable use
Negative effects on the natural surroundings can be minimised by defining rules for the distribution of the released dredging spoil and by designating distribution wharves. Whether and under which conditions it is possible to designate distribution wharves for dredging spoil in the Natura 2000 area will have to be seen when the Natura 2000 management plans are being drawn up.
Interaction between sand extraction and the distribution of dredging spoil
The aim is to achieve a beneficial combination of sand extraction and distribution of dredging spoil using deepened quay walls. In this case, sand is first extracted down to a depth of approx. 10 metres. The dredging spoil is then distributed in the sand extraction well.  If several wells are being used at the same time, sand extraction can be combined with the distribution of dredging spoil.