The long and wide beaches, the surrounding dunes and the variation in seaside towns lure domestic and foreign tourists to the North Sea coast. Bathers, surfers, kite surfers, hang gliders, fishermen, sailors and power boaters, they all like spending their free time on and around the water. In the New Tourism Agenda, the government emphasises the development of coastal tourism. Tourism policy and its implementation are largely in the hands of provinces and municipalities.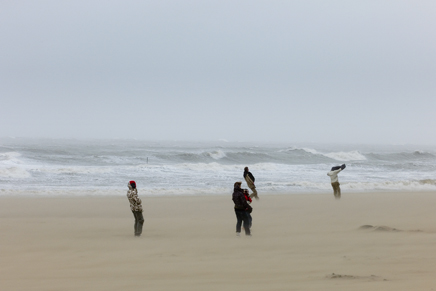 Safe recreation
The government is responsible for the safety of the recreational areas. The water at designated bathing sites must meet the legal quality standards. During the bathing season – from May to September – Rijkswaterstaat regularly measures the quality of bathing water. In a period of heavy rainfall, a malfunctioning sewage or a lack in treatment capacity may cause temporary deterioration of water quality. If necessary, the Provincial Government will then issue negative bathing advice or close the bathing area to the public.
Spatial needs for recreation on the North Sea coast
Recreational use of the North Sea Coastal Zone requires a large amount of space. The watersport sector is growing and needs more marinas. Sailors of pleasure craft prefer to avoid the large shipping routes, but in principle recreation vessels are allowed to use these routes. Users of pleasure craft that are heading for the open sea want to be granted free passage through the wind turbine farms in the case of calamities or if the major shipping routes are very busy. The Government is looking into the possibilities of granting that wish. However, before crossing military exercise areas sailors of pleasure craft must listen to the shipping broadcasts for information about possible military exercises. Relatively new types of watersport such as kite-surfing and delta-flying require their own zones so that people can practice the sport.
National Water Plan
The National Water Plan specifies that the 12-mile zone will in principle be kept free of permanent buildings. In this context, recreation from the beach and pleasure craft along the entire coast are taken into account.
Effects of North Sea recreation on nature
A great deal of recreational use is related to nature or takes place close to nature. This may have a negative effect on the conservation objectives of Natura 2000 areas. To counteract such undesirable effects, a zoning measure can be included in the corresponding Natura 2000 management plan. The area may, for example, be temporarily closed for recreation in the breeding, spawning or migration season.
The art in all this is to find a good balance between economic interests of the recreational sector and the interests of nature and the environment.