Kopie van Wozep Newsletter - No. 4

This fourth Wozep newsletter brings you up to date with the latest news from Wozep research into the ecological impact of offshore wind farms. We take a closer look at the Sandwich tern and describe how porpoise strandings have been used to learn more about these elusive animals. We describe a new avenue of our bat research. And two articles focus on research programmes that have been launched recently to look at animals on the sea bed: one on the key role of the sand eel and the other on how the electromagnetic fields from cables can affect sharks and rays.
The first newsletter included a general introduction, about the background and scope of Wozep.
Harbour porpoise strandings
Harbour porpoises are the most abundant cetaceans in the North Sea. In the years to come, more offshore wind parks will be developed in the southern North Sea. To preserve a sustainable environment for the harbour porpoise and minimise the effects on these animals, Wozep is looking at several aspects of harbour porpoise ecology and the impact on the population.
Non-migratory bats and offshore wind farms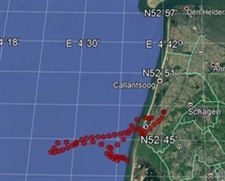 Wozep has been investigating the individual migration patterns of the Nathusius' pipistrelle, a small migratory bat that regularly crosses the North Sea, with lightweight radio transmitters. In order to validate the 2D accuracy of the location estimates, a small number of Common noctules were tagged with both radio transmitters and lightweight GPS loggers.
Understanding the ecological role of sand eels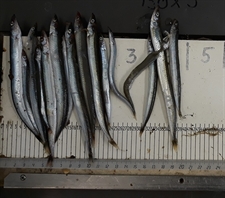 Top predators such as seabirds and sea mammals are an important focus of Wozep research. Previous studies have shown that top predators depend on forage fish such as herring, sprat and sand eel. In turn, forage fish depend on plankton production. However, there are still knowledge gaps in our understanding of how these three factors interact.
Read the whole article about the ecological role of sand eels
Sharks, rays and offshore power cables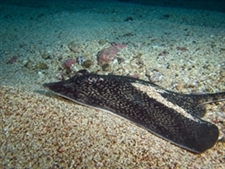 Cables in offshore wind farms generate electromagnetic fields (EMF). Recently, WaterProof measured EMF near export cables during a validation survey, commissioned by Wozep. The construction of more offshore wind farms will require more and stronger cables and so we need a clearer picture of the potential effects and mechanisms involved.
Read the whole article about the effects from offshore power cables
In the spotlight: the Sandwich tern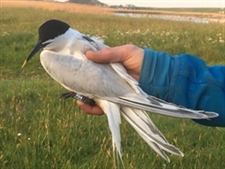 Sandwich terns are food specialists, especially during the breeding season, when they feed a mix of herring, sprat and sand eels to their chicks. Their breeding behaviour is also remarkable. They breed in just a few colonies, but in enormous numbers in a very small area. Five nests per square metre is no exception.
For more information about the different individual research topics, you can check out the document page on our website.